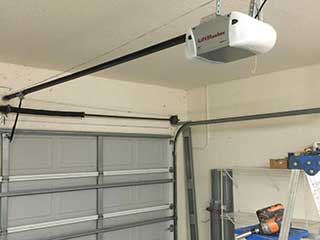 Why Should You Consider It?
Your home's garage door is a more complicated piece of machinery than it may look, and with that comes many parts that get worn down over years of daily use. One of the best ways to lengthen the lifespan of your door and its related components is with regular maintenance services! These can help ease any small troubles that may be taking their toll on the system from continued use, ensure it's moving as smoothly and quickly as possible, and even catch big future problems before they strike and prevent them entirely!
Your Door Will Move Swiftly Again
Part lubrication is the best way to keep your door moving up and down along the track with ease rather than dragging slowly along, and it can help protect parts from breaking as well by making them less brittle. This is of particular importance for the springs, as becoming stiff makes them more likely to snap and leave your door unable to function.
We'll Get The Tension Adjusted
Proper tension for your garage door is very important for allowing it to work as it should. Too little tension will wear your springs down more quickly and make the door off balance and crooked, while too much makes it difficult for it to close. This can result in any belongings in your garage, as well as your home itself, being at risk. One of our technicians can get the tension adjusted in no time!
Properly Working Safety Sensors Are Vital
The safety sensors of your garage door are what keep everyone safe by detecting if something is under the door as it closes so that it will stop and reverse to avoid harming whatever is there. However, if the sensors are no longer functioning well, this can put anyone near the door at risk, particularly pets and kids. Our team will thoroughly test the sensors so you can be certain that your family is protected!
Why Wait Any Longer?
Call Garage Door Repair Fairfield now to get your maintenance appointment scheduled!
Let our team take care of it for you!
Emergency Garage Door Services
Belt Drive Garage Door Openers
Broken Spring Replacement & Repair
Garage Door Opener Maintenance