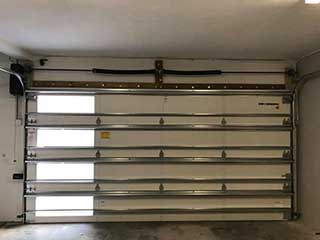 If you own a garage, you probably push a button daily to open and close it. This becomes second nature, but have you ever thought about the mechanisms involved in its efficient functioning? Probably not, though they play in integral role in your everyday life. Springs pack an incredible quantity of force, necessary to maneuver a door sometimes in excess of 400lbs.
If something goes wrong with one of your springs, it goes wrong in a big way. If they're not kept up to date, there can be dangerous consequences, so it's best to perform regular checks to see if they're functioning correctly. If you feel out of your depth checking these, professional help is always on hand to help you evaluate the working condition of your springs. There are certain things you can do to keep your springs in good shape, while creating awareness surrounding the potential for replacement. These are outlined below:
What Type of Springs Do I Have?
The two main types of springs are torsion and extension. Your torsion springs are located at the top of your door, whereas extension springs are on the side. The latter functions by extending and contracting when you open your door, and commonly last for up to 10,000 lifts. You should think about how often your garage door is used, and use this to assess when springs need replacing. Torsion springs coil and tighten when you open and close your door, and last considerably longer than extension springs. They are more expensive, but last up to 20,000 lifts.
Does My Garage Door Have Safety Cables?
It probably does, since this is a safety requirement with most modern doors. Your cables are under a great deal of stress and duress, so should be inspected regularly. If they stop functioning correctly, this can cause significant damage to your car, or in the worst case scenario, a person. Safety cables control the door when the springs fall, and can be found attached to the wall, ceiling, or other support.