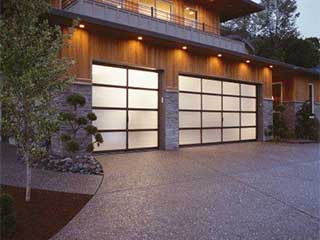 As they say, color is the essence of life, and there are times when looking at your drab garage door makes you wish for something better. Don't think of it as a silly, superficial need. Not when there are many readily accessible materials available to help brighten up your plain old door and bring a new sense of freshness and pride to your home's exterior. There are tons of interesting methods available for sprucing up your door – read on for our recommendations!
Why Bother Redecorating?
The major selling point of a decorated garage door as compared to a plain one is the value and appeal of the overall upgraded aesthetic of your property. After coming home from a dreary day at the office, something as simple as seeing a different color or design as you pull up in your driveway, can be a significant morale booster. It's a psychological thing.
What Shall I Do With My Door?
If you're finding your single or double door a bit unsightly, you could consider painting vertical stripes down the center of it to mimic a two-door garage. For a more rustic look, you could try and experiment with light-brown hue colors or a faux-wood finish – yep, you can achieve a wooden look without changing the material of your door! Another quick and fun thing to try? Get a garage door skin that matches your tastes. These overlays provide an easy way to get a brand new look and are easy to change when you feel like switching things up again.
What Do You Need?
This part is pretty easy. If it's just the exterior you're revamping, the minimum you'd need to consider is your panels and the paint or finish which qualifies for the task. You can literally let your imagination run wild – we recommend opting for colors that either match or complement your garage's inner walls, or those chosen for your home's exterior walls. Another way to amp up style is with decorative accents. The popular carriage style garage door style for example, is achieved using decorative metallic hardware – aspen tip, spear tip, and round tip to name a few. Though plastic may be a cheaper choice for hardware like this, it tends to look cheap too, and is a less reliable option.
Get The Family Involved
You can get the whole family involved with documenting how your garage door looked before and after the changes. This makes for great family stories, and an activity that everyone can get behind and be proud of.
Our team of skilled technicians at Garage Door Repair Fairfield is ready to help you repair, or find a new garage door, so you can begin your decorating journey today!