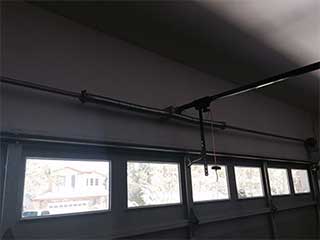 Don't Wait Too Long
While you have plenty of projects to deal with around your home, if you notice something seems to be wrong with your garage door you shouldn't ignore it! Issues such as the door only opening part way if at all, jerking when it's moving, or falling shut rather than closing regularly are all indications that the springs need to be taken care of. Allowing the door to continue to be used will only worsen the problem over time and may even strain other components of the system that will need to be tended to as well. That's why it's best to catch it quickly and get it all fixed, the sooner the better!
DIY Temptation Can Be Harmful
It's understandable to want to try to save some money by handling things yourself but trying to do so when you don't know what you're doing may cost you much more in the long run! Not only can it worsen the issues with your door and cause further ones that will need to be taken care of, but it can also be hazardous to your health. The springs can cause a lot of harm if a professional doesn't handle them, and improperly installed springs can make your door unreliable and potentially dangerous. It's safest and best to allow professionals to come out and easily replace any springs that are necessary or adjust them as needed so you can count on your door to work reliably again as well as remain safe.
What Does Extension Or Torsion Mean?
This refers to the type of springs your garage door has, and the difference is in how they work. Extension springs are stretched to create tension, which is essentially energy to lift and close your door as needed. Torsion, on the other hand, twists up tightly instead to create this. Torsion are the preferred type of spring due to being less likely to wear down and break and being less dangerous when they do snap. However, we tend to either type because we're knowledgeable of them both!
Contact Us Today
Call Garage Door Repair Fairfield now so we can get to work on your springs!
Want more? Let us take care of:
Garage Door Tune Up Services
New Opener Remote Controls
Extension Spring Adjustment
Garage Door Off Track Repair