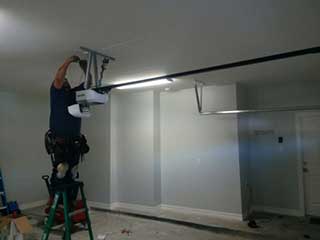 Don't Wait To Repair It
It's important to catch signs that your opener is malfunctioning as soon as possible, because continued use of it when it's in bad shape will only worsen the issue over time! It can also negatively affect the rest of the system as well from causing strain, which may lead to even further repairs being necessary. If your door shakes roughly as it moves, reverses suddenly, or any other strange symptoms, it's time to call the experts and get it like new again before you know it!
Fast Repairs And Replacements
Our technicians would be happy to come out and get to work determining what specifically is wrong with your opener and set about fixing it in no time! It may need a part repaired such as the circuit board, or a part replaced entirely. Whatever the case, we work with all the major brands so it won't be a problem! If the opener itself is simply too old and needs to be switched out altogether, we can do that as well.
Not Sure What's Wrong?
That's okay! We offer troubleshooting where one of our professionals will carefully inspect the opener and its related components such as the openers to figure out what exactly is causing the issue and the best solution for it. It might be a problem with the sensors, or just need some bolts tightened from being jostled over the years. Whatever it is, we'll take care of it!
Installations Done In No Time
Whether you've already gotten your opener purchased and just want it put into place by someone experienced, or need help with buying something new, we're here to lend you a hand! We'll get the opener put together and carefully installed for you, as well as test it so you can be completely certain that it's working properly. This way there's no need for any muss or fuss!
Get Your Appointment Scheduled
Call Garage Door Repair Fairfield today so we can get your opener like new again! You won't regret it.
Looking for more? We also offer:
Garage Door Safety Inspections
Garage Door Remote Clickers
Extension Spring Adjustment